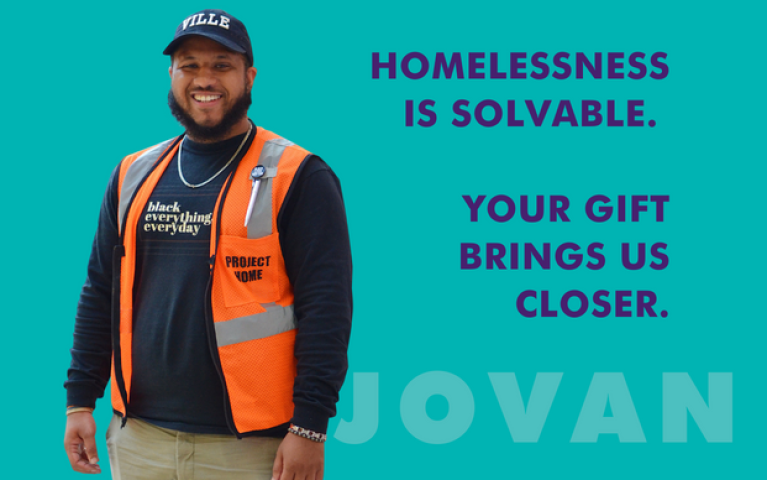 Jovan's Story
During his sophomore year of high school in 2015, Jovan Cosby took a step in a new direction by applying for Project HOME's competitive internship program. With only ten available spots and 200 applicants, Jovan was unsure if he'd be accepted to the program.
"A shot in the dark," as he puts it. The experience would introduce local students to new fields—photography, music production, culinary arts—to help them learn new skills and express themselves creatively at the Honickman Learning Center Comcast Technology Labs (HLCCTL). Jovan never would have guessed that a four-month program would turn into something so much more. Something, he admits, he wasn't even sure was possible. 
Since his first introduction to Project HOME nearly seven years ago, Jovan has continued his journey—first alongside fellow students and peers to readying himself for a college career in social work and now as a colleague and staff member on our Outreach team. The internship program led way to Jovan's participation in the College Access Program (CAP), a program that seeks to prepare students and their families to achieve college success during and post-college.
Jovan has received scholarships throughout is time in CAP, including the General Colin Powell Scholarship, and most recently honored as a recipient of the Project HOME Leadership Award. After graduating high school in 2017, Jovan has since graduated with a B.A. in Speech Communications and currently pursuing a Masters of Social Work at Millersville University. "The HLCCTL really prepared me for Millersville. I learned how to become a better writer and how to focus my time and schedule."  
Jovan interned for two summers in Project HOME's advocacy department and where he found footing for a new career path. The introduction to social justice inspired Jovan's continued work as on-call outreach work to a full time Mobile Accessor, a "walking case manager." The daily interaction that fosters trusting connections for individuals experiencing street homelessness is rooted in Jovan's early experience in the HLCCTL internship program. Building connections with fellow students, opening his mind to new skills, and working alongside teachers and community partners, has all put him on this path. The care, kindness, and commitment that one individual pledges to another, "is worth more than the scholarship money. But that certainly helps, too!"  
The mentorship received throughout the years, however, is the driving influence that has helped shape Jovan. "It's like I was a seed that was planted," Jovan says of first walking through the doors at HLC, "and Project HOME has been watering that seed all these years."   
Make a Gift
Your Impact in Fiscal Year 2022
Housing
1,157 residents across Project HOME  
98 percent of young adults (like Michelle and Donnell) remain in stable housing after one-year  
Opportunities for Employment  
264 adult learners participating in Project HOME's Adult Education and Employment Department programs  
114 residents (up 40 percent over FY21) enrolled in post-secondary, GED, and/or professional certificate programs designed to lead to competitive employment  
Medical Care  
Education