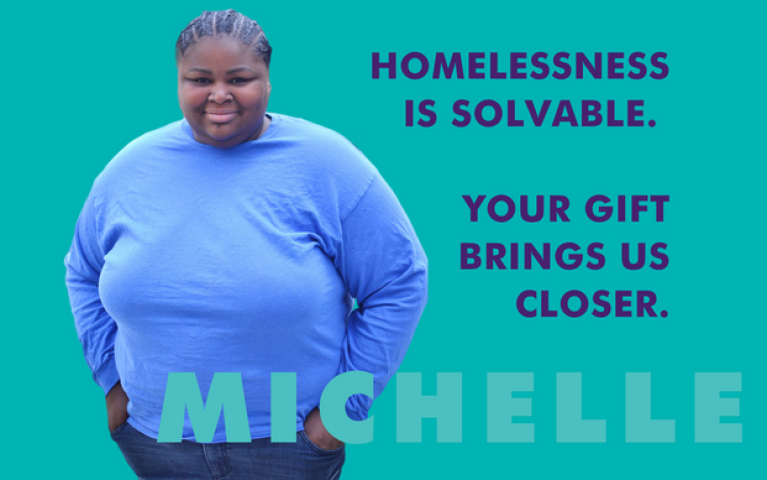 Meet Michelle
During a recent Inspiration Tuesday – a standing meeting where members of the Project HOME community gather in person and virtually to hear uplifting reflections – Project HOME resident Michelle strode to the podium and shared a powerful untitled poem, which is included here.  
Michelle's voice and resolve are firmly her own. She was determined, and through Project HOME's access to permanent supportive housing, employment opportunities, medical care, and education – that you make possible – Michelle came HOME in 2019.
Prior to joining Project HOME's Gloria Casarez Residence (GCR) community, Michelle had experienced periods of living in foster care and, after she turned 18, a women's shelter in North Philadelphia's Tioga-Nicetown neighborhood. Michelle's struggle to find affordable housing exacted a significant toll.  
"Every time I moved, my poetry – binders of poems – would be lost," Michelle shares.
"When I opened the door to my apartment for the first time, it was a 'wow' moment."   
As she approaches her third year at Project HOME, Michelle is grateful to be able to take advantage of all the resources available to her. She is practicing self-care, developing her skills as a resident leader, and even giving back as a volunteer in the digital music production studio at the Honickman Learning Center Comcast Technology Labs. "Logic Pro is an amazing tool – it is great to see students learning how to use the music production tools as a way to advance and develop themselves," says Michelle.  
In both Michelle's poem and in her day-to-day life, the strides she continues to make all tie back to permanent supportive housing.  
"When I opened the door to my apartment for the first time, it was a 'wow' moment," Michelle reflects. "There is a sense of 'I can't believe this is happening.' But getting in here with Project HOME is the best step you can take. It opens doors to new resources and helps you get beyond housing insecurity."  
Michelle's Poem
As Time slows down 
I take a 
deep breath in 
as I look around 
all I can 
say is 
I'm home
As the keys 
are handed to 
me and 
they say 
it's all yours 
I smile 
As I will leave all 
I can think is 
I know that when I get back 
everything will be right 
where I left it 
as a smile 
starts my day 
it will end it.
Your continued generosity today will help the next wave of 'Wow' moments like Michelle's possible tomorrow.
Make a Gift
Your Impact in Fiscal Year 2022
Housing
1,157 residents across Project HOME  
98 percent of young adults (like Michelle and Donnell) remain in stable housing after one-year  
Opportunities for Employment  
264 adult learners participating in Project HOME's Adult Education and Employment Department programs  
114 residents (up 40 percent over FY21) enrolled in post-secondary, GED, and/or professional certificate programs designed to lead to competitive employment  
Medical Care  
Education