Inn of Amazing Mercy Resident Shares Reflections and Encourages Healing
Wednesday, August 23, 2023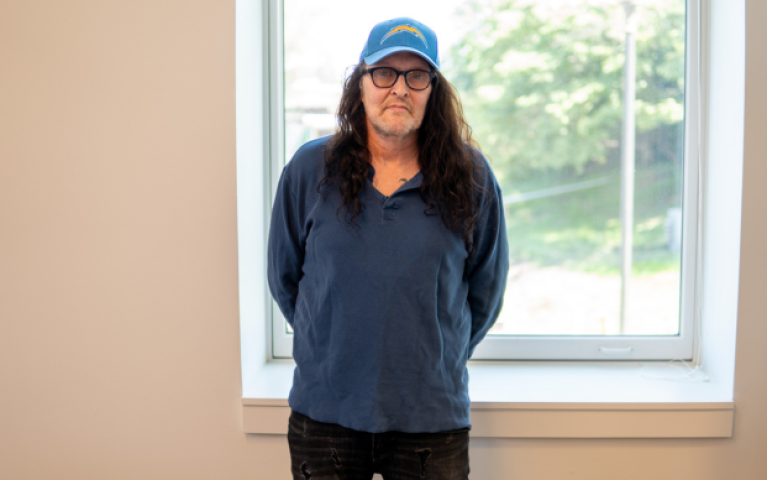 Residents began moving into Inn of Amazing Mercy (The Inn), our newest recovery housing building, in early 2023. Rick is one of 62 people who now call The Inn home. He had been homeless for over three decades before landing at our newest residence in Kensington.
"I've never had keys to a door for my own spot until I lived here," said Rick. He explains the ongoing battle with substance use disorder and says having a positive and safe space has helped with healing. "I'm grateful for [Sister Mary Scullion and Joan McConnon]. They've done so much that's helped me change my life."
Rick came to the Project HOME community about three years ago at Sacred Heart Recovery Residence, before transitioning to The Inn in March 2023. He's struggled with fighting substance use disorder for more than half his life and says it's not something everyone can understand.
"People just think you want to feel high, but really you don't feel anything. It numbs everything out if you have emotional issues, it numbs it out if you have physical pain. It's the ultimate painkiller. It really had me messed up for a long time. I missed a lot of opportunities and things that came my way in life in order to keep getting high."
But he kept fighting. A close friend was monumental in his steps toward healing. Rick also attributes the staff at Project HOME and says they gave him the necessary tools to begin making positive changes. "They gave me a bridge to change my life," said Rick.
"I can't even convey what this place has done for me. I love Project HOME, and I love the people that work here. There were times I wasn't the best person and people still loved me." - Rick, Resident, Inn of Amazing Mercy
Today, Rick has been maintaining a clean lifestyle for over a year. He receives regular treatments for substance use disorder and is working toward obtaining a career. Rick wants to use his experiences to help others and believes programs and permanent housing opportunities are essential for those in healing.
"They've changed the game about what's acceptable and what's not about helping people. Literally, there's no excuses. Take those two women [Sister Mary and Joan] and look what they built. If you want to help people, it can be done."