Notes from Music Classes - Music Production January 2022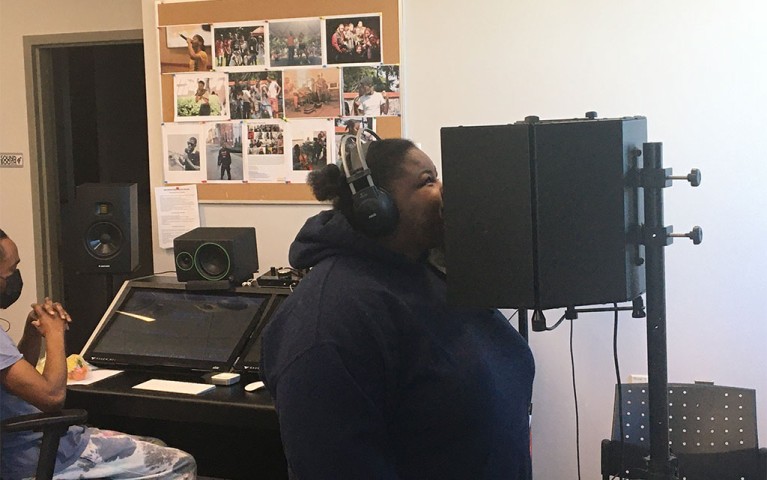 Listen to two tracks from the Project HOME Music Production January 2022 class, reinterpreting one by College Access Program teens.
Project HOME's Music Production is a four-week project-based class that teaches the basics of songwriting and digital audio production. Facilitated by Paul Dunnaville, students learn how to record, edit, mix, and master using Logic Pro X. 
Students in the January 2022 class were asked, as a team, to take a demo and put their own spin on it. They were given "Kings & Queens Reading Theme demo" to work with. The track was originally recorded and produced by teens from the Project HOME College Access Program in the fall of 2021.
...
Play "Kings and Queens Reading Theme demo" by College Access Program Teens. 
...
Each day's lesson guided students through their class project. First, they listened to and critiqued the original demo, and they discussed what they wanted their version to sound like. Then they used Logic Pro X, microphones, and the digital audio interface to record themselves. Finally, they used Logic Pro X to arrange and master the track. 
In Class A (residents Potso, Markese, and Michelle, and community member Annette) they thought it would be best to create a totally new version of the song. For inspiration, the class listened to children's show theme songs. The intro for "The Magic School Bus" became the reference point.
...
Play "Don't (you dare) Give Up" by Class A. 
...
In Class B (residents Kelene and Juanda, and community members Khadijah and Steven) they decided to keep the vocals and some of the music of the original. A crescendo was added towards the end for a dramatic build-up. The new version feels orchestral.
...
Play "Kings and Queens Reading Podcast v3" by Class B. 
...
Paul Dunnaville, Workforce Manager Creative Arts, teaches the Music Production class. He is a drummer and composer. He has been a creative force behind Project HOME's Inner Power Records. 
You can sign up for email updates to hear about future Music Production and other classes. Make sure to check the "Adult Education and Employment" box.