Our newest mugs: A Set of Three Painted Flower Mugs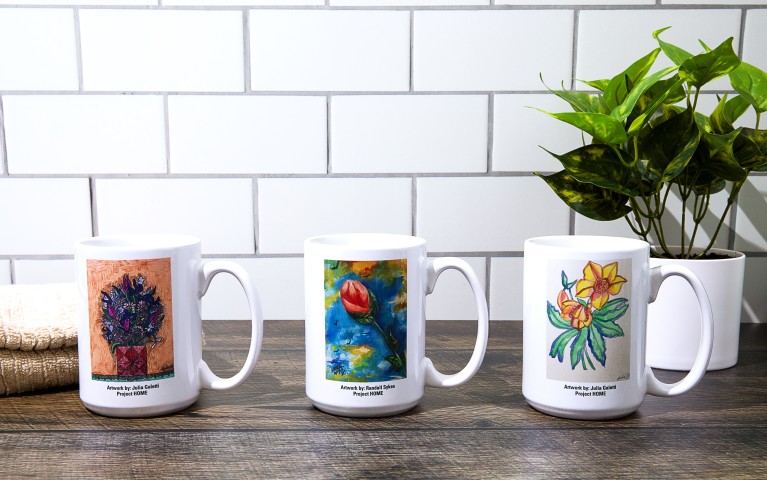 Beautiful new mugs by Randall & Julia Project HOME artists!
We have three new mugs featuring art by two of our Project HOME resident artists.
This red rose with a beautiful sky backdrop is by Randall Sykes and the gorgeous floral bouquet mug and victorian vase mug are by Julia Galetti. Both are 15 oz. latte style and dishwasher safe!
Randal Sykes:
Through good times and bad, art has always been an anchor though. Whether it was acrylic on canvas, graffiti artwork, watercolors, oil pastels, chalk pastels, ink pen, pencil, charcoal - you name it, he's worked with it. And it makes him feel good when people see his creations, with his latest piece of art being featured on our Social Enterprise department's new mugs. "When I see my art displayed, I thank God my creator for this gift he's given me," said Randal. "My spirit is in my paintings and how I feel and see the world."
Julia Galetti:
From a young age Project HOME resident, Julia, has been creating art. It wasn't unusual for her to win ribbons for painting in elementary school because it's in her blood. From her brother Eugene to her Great Aunt Jean who was a watercolor artist, art flows in their veins. Project HOME has had an art program for many years, and so it just made sense for Julia to become a part of that. But Julia didn't just join the art program; she won several grants to fund her art projects and in turn gave that money to the community to empower others.
"It makes me feel good when I make art," said Julia.