Spirit of Generosity: Elizabeth Gilbert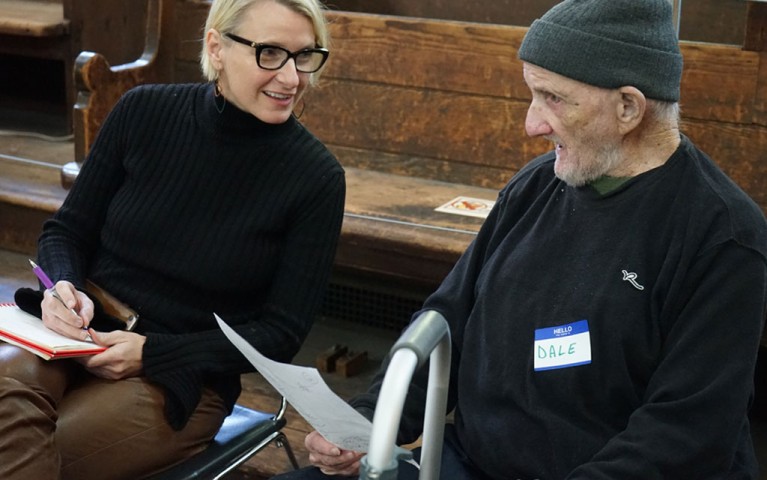 Author of Eat, Pray, Love, Elizabeth "Liz" Gilbert has an intrinsic connection to Philadelphia. She's lived here twice, including once in the early 90s in West Philly, and it was an eye-opening experience. "I had grown up in the country and at that point in my very young life I didn't realize how cities worked," said Gilbert. "Or how they stopped working."  
At that time, she wasn't aware of the work of Project HOME, but she was aware of the great need in the city. "You can't live in Philadelphia without seeing the need," said Gilbert. It was her personal connection with a good friend of Project HOME, Dr. Deborah Luepnitz (a psychoanalyst who has run support groups for staff and residents at Project HOME for over two decades), that brought Liz to meet Sister Mary Scullion.
"She's a freak of compassion," laughs Gilbert. "I say this from a place of love. I haven't seen that she [Sister Mary] has any selfishness in her and I've only met four people like her in my life."  
That's partly why Liz connected with Project HOME, but mostly it's because she says it works. What really moves her about the organization is that it operates from a place of exquisite human dignity. Over the years she held creativity workshops at Project HOME sites for staff and residents and was energized by our beloved community. She also supported scholarships for students through the College Access Program at the Honickman Learning Center Comcast Technology Labs. Education is important to her because she feels that anyone who wants to be educated should be educated.
"I remember what it feels like to be hungry to learn," said Gilbert. At a young age Liz showed up for school an hour early and introduced herself to the teacher. "It's incredibly gratifying to see those pictures of the graduating students every year."  
We are so grateful to Liz for her true spirit of generosity and her commitment to the work of Project HOME for nearly two decades – it is this example that inspires us all to compassion.  
...
Our News from HOME newsletter is printed and mailed every quarter. Click here to subscribe.