Spirit of Generosity: Maguire Foundation
Wednesday, October 20, 2021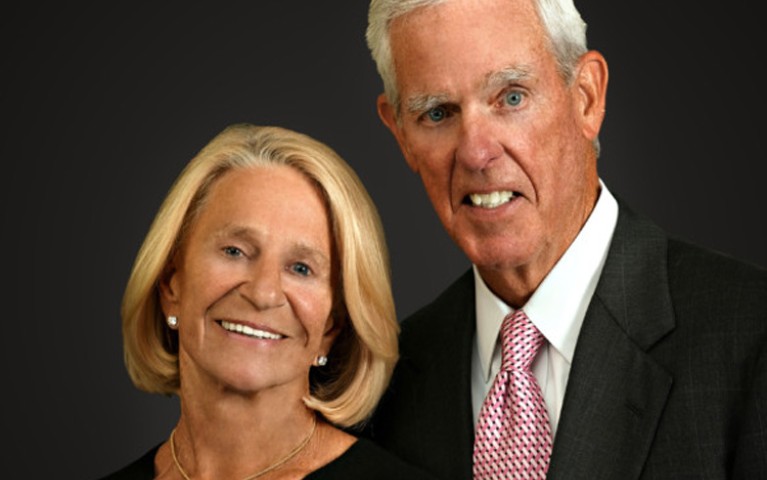 "A human connection is more powerful than any meal I've ever handed out." - Megan Maguire Nicoletti, president and CEO of Maguire Foundation
Shown: James and the late Frances Maguire have been committed to supporting the work of Project HOME for over two decades.
...
"It all started with Sister Mary and my parents," explains Megan Maguire Nicoletti, President and CEO of the Maguire Foundation. It's a foundation that is dedicated to committing time, talent, and treasure with an investor's approach to support education, arts and humanities, hunger, and homelessness.  
James and Frances Maguire connected with Project HOME's executive director and co-founder, Sister Mary Scullion, about 20 years ago. They were drawn to the "tremendous leadership Sister Mary models every day," said Megan, "and how she looked at the whole person, not just a label."  
As humans we can sometimes find it all too easy to negatively label ourselves and others. We're "not good enough," we "have issues" or that person is "difficult". Megan, her parents, and her family understand that when you look at the whole person, you can see where you can lend support and how you can influence and affect the outcome of the next generation to come.  
Over the years the Maguire family have given to every aspect of our mission at Project HOME. They've supported our affordable housing like Francis House of Peace, Maguire Residence, and Gloria Casarez Residence; they've invested in the educational opportunities we offer our students through scholarships; they've focused on medical care and opportunities for employment. Most importantly they feel if you give someone access to the education they deserve, you can contribute to ending the cycle of poverty. 
"The Maguire family have been transformational partners in ending chronic homelessness in Philadelphia through their support of educational opportunities and permanent supportive housing," said Sister Mary. "Their strong family bond and hearts of compassion are forces for good in our community and their leadership and guidance have multiplied the impact of our work in innumerable ways." 
The Maguires understand that there is no short-term solution to solving homelessness, it's not just feeding someone a meal. "A human connection is more powerful than any meal I've ever handed out," said Megan, and she's been forever changed by her interactions with our beloved community at Project HOME. It's changed them as a family too, because if you can give together it becomes embedded in everything you do.  
Megan and her family want to keep helping and opening doors where perhaps they've been closed. They recognize it's a marathon, not a sprint, and that slowly homelessness will change in our city thanks to their long-term commitment.