Spirit of Generosity: The Power of We
Wednesday, August 3, 2022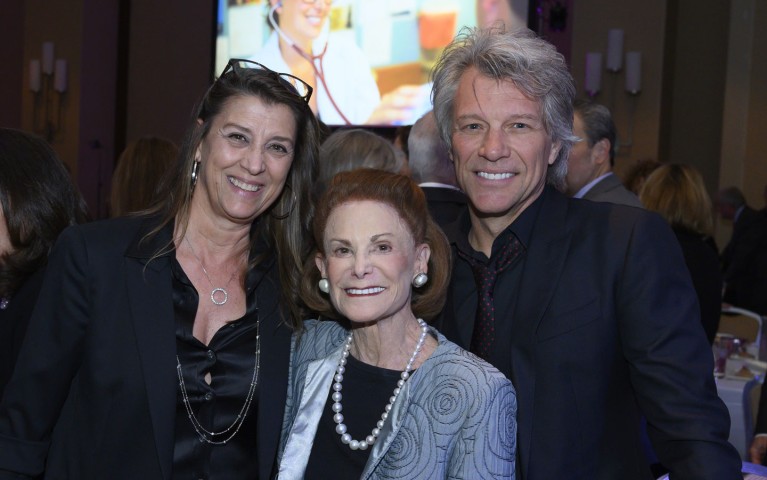 Our long-time headquarters at 1515 Fairmount Avenue – both a cherished home and the nerve center of Project HOME – is a beacon of hope to anyone touched by homelessness.
"You never know who might walk in the front door," said Sister Mary Scullion. "1515 Fairmount Avenue welcomes anyone who wants help or wants to help, and really, we all are both of those things at any given time."
One of Project HOME's core beliefs is that every person has innate dignity and value. That means that no one has more or less worth on their best or worst day. So, when Jon Bon Jovi's sound engineer walked in to 1515 Fairmount one winter's day in 2005, he had a simple conversation with Ed Speedling who worked in the Outreach Coordination Center about someone who was cold and in need, experiencing homelessness, and huddled in front of a hotel in Center City. After the Outreach teams were sent to help the individual that he revealed that he worked for Jon Bon Jovi and had been sent to investigate organizations that could help. He then asked if Sister Mary might like to meet with Jon. She was in amazement!
In 2006, Bon Jovi and his wife, Dorothea, founded the Jon Bon Jovi Soul Foundation. The Foundation focuses on breaking "the cycle of poverty, hunger and homelessness through developing partnerships, creating programs and providing grant funding to benefit community organizations." Jon's powerful voice and iconic status served as a rallying cry. He was able to shine a bright light on the issues of hunger and homelessness.
"They led the way to develop 40 home-ownership homes in the 19121 ZIP Code that helped to transform that neighborhood. In addition, they helped to guide the vision for our young adult program, which got its start at the 55-unit JBJ Soul Homes on the corner of Fairmount and Broad streets for which they were also the lead donor. Jon also provided a generous grant to honor his parents' service in our armed forces for our veteran's programs. In addition, they offered leadership financial support for Ruth Williams House at the Gene & Marlene Epstein Building, and the Inn of Amazing Mercy that will open in late 2022.
It's the "Power of We" that drives the JBJ Soul Foundation's partnerships throughout the region. From the innovative JBJ Soul Kitchens and Food Banks located in New York and New Jersey, including at Rutgers University, to affordable housing supporting veterans and those impacted by poverty, the 15-year-old organization's goal is to recognize and maximize the human potential of those affected by hunger, poverty, and homelessness.
"The JBJ Soul Foundation has been honored to have partnered with Project HOME on so many important and life changing projects", said Jon Bon Jovi, Chairman of the JBJ Soul Foundation. "Sister Mary played a big role in the inspiration and drive behind the start of the Foundation. Her leadership over the years has helped shape our philosophy of providing those in need a hand up, not a hand out, and to help give a sense of empowerment while finding ways to change their lives. We are proud of the work we have accomplished together and know there is still more to be done. With Sister Mary and Project HOME leading the way, we know we can continue to make a difference in Philadelphia and beyond".
"If there's one thing we want everyone to know, it's that homelessness is solvable, and it takes all of us," said Sister Mary. "Jon and Dorothea are using their voices and resources in miraculous ways. We can't possibly measure the impact their leadership has had in our community. There truly is power in working together and our hearts are filled with gratitude."
Subscribe to News from HOME
Receive our quarterly print newsletter in your mailbox by visiting us here.