Reproductive Health Services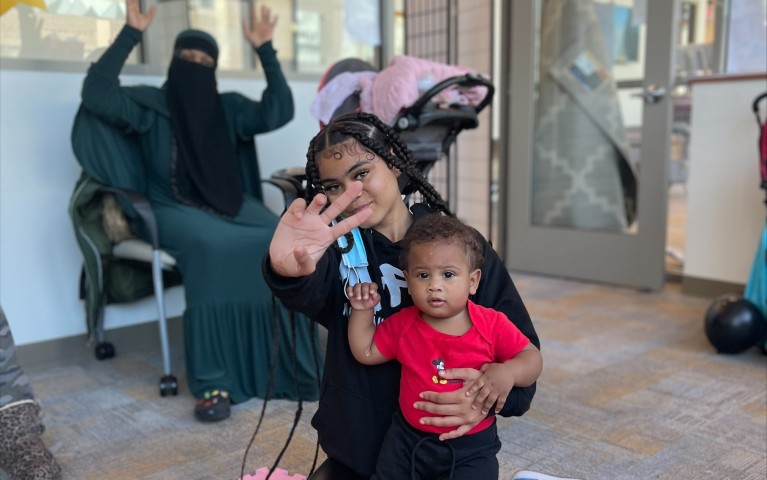 COVID-19 Update: During COVID, we make sure that all precautions are in place to keep you and your family safe. All staff and visitors over the age of two are screened for symptoms and required to wear a mask at all times.
...
The Reproductive and Child Health Team at Project HOME can provide you with excellent reproductive, obstetric, and gynecologic care.
Preventive Health
Our wonderful team of providers are able to keep you up to date on cervical cancer screening and manage abnormal findings. Our office provides:
Cervical cancer screening (including paps and HPV testing)
Colposcopy (management of abnormal paps)
And, we are able to refer for advanced care if clinically appropriate
We also offer HIV and STI screening and treatment.
Family Planning and Reproductive Services
We are here to meet your reproductive goals and family planning needs, whether it be avoiding pregnancy, addressing infertility, or planning when the best time is for you. We provide the following contraception options in our office:
Comprehensive contraception counseling and prescriptions for contraception options, including fertility awareness, pill, patch, ring
Depo injection
IUD insertion or removal
Nexplanon insertion or removal
Prenatal and Postpartum Care Services
We have an excellent team of prenatal care providers. We have prenatal group visits through the Centering care model but can also offer individual visit appointments. Centering is medical visits with education on topics that includes breastfeeding, labor and delivery, postpartum depression, pediatric care and safety, and much more. Our excellent team of Family Medicine doctors can be selected to serve as your primary care provider, your prenatal care provider, and baby's doctor, too! We specialize in taking care of your whole family.
You can deliver at any one of our partnering hospitals:
Temple University Hospital
Thomas Jefferson University
Hospital of the University of Pennsylvania (34th and Spruce location)
Our amazing Reproductive and Child Health Team made up of our doctors, nurse, community health worker, and administrator follow all of our expecting patients throughout their pregnancy meeting needs along the way. We have convenient on-site behavioral health services, pharmacy, and dental care. We have connections to community resources, such as crib and car seat programs, home visiting programs, childbirth classes, including CPR classes, and doula services. Our team is ready to provide you with exceptional breastfeeding education and support, if you desire. We also have a maternity wear closet that provides access to gently used clothing you can borrow or keep.
We have an on-call team of OB providers that are able to meet your needs after hours.
For more information on our pediatric care services, click here.
...
Project HOME's Healthcare Services is a Federally Qualified Health Center (FQHC) and we are able to provide our services regardless of a person's ability to pay for the services. In cases where an individual lacks health insurance, we offer a discounted sliding fee program.
Project HOME receives HHS funding and has Federal Public Health Service (PHS) deemed status with respect to certain health or health-related claims including medical malpractice claims for itself and its covered individuals.
Additional Information
Monday through Friday from 9 a.m. to 5 p.m.
Appointments are same day or next day for both in person and telehealth visits. Call 215-320-6187 at 9 a.m. to make an appointment.
Monday through Friday from 8:30 a.m. to 2 p.m.
Walk in appointments only.

We accept the insurances listed below, as well as individuals who have no insurance:
Medicaid
Keystone First : (800) 521-6860
Health Partners: (800) 553-0784
Medicare
Keystone VIP Choice :(800) 450-1166
Health Partners Medicare: (866) 901-8000
Keystone First Comm Health Choices: (855) 332-0729
PA Health and Wellness CHC: (844) 626-6813
UPMC CHC: (866)884-8579
If you have another Medicaid plan and would like to switch to a plan we accept, please call PA Health Choices at 800-440-3989.
Please make sure that one of the Project HOME Stephen Klein Wellness Center providers is your Primary Care Physician (PCP).
Our Providers
Dani Baurer, primary care provider
Christine Castellan, primary care provider
Shinichi Daimyo, psychiatric nurse practitioner
Patrick Doggett, primary care provider
Nyasha George, primary care provider
Joi Goodwin, primary care provider
Judith Tiga, primary care provider
Nayeli Spahr, primary care provider
Ivel Morales, primary care provider
Insurance Provider Contact Information
Health Partners | 800-553-0784
Keystone First | 800-521-6860
Project HOME SKWC ID# 30171819
Keystone Connect | 855-332-0434
Project HOME SKWC ID# 30171819
Keystone VIP Choice | (800) 450-1166
Project HOME ID# 80021357
Medicaid Access—no PCP change necessary
Medicare—no PCP change necessary
After you've made the call, please schedule an appointment by calling 215-320-6187.
Future Insurance Options
Cigna HealthSpring
Aetna Better Health
Aetna commercial plans
Independence Blue Cross plans (Keystone Health Plan East, etc)
Reproductive Programming
Come join us for group prenatal visits to build community and improve pregnancy outcomes!
Comes join us for Fit Moms of Philly!