Fiscal Year 2020 Annual Report
Monday, December 14, 2020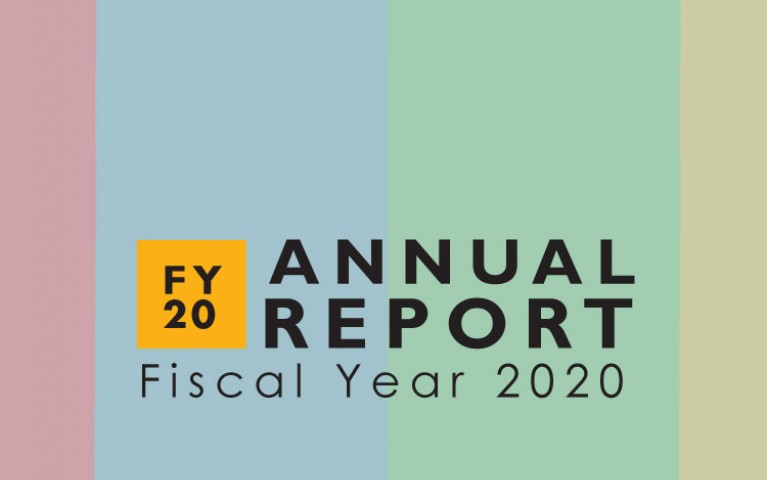 Dear Project HOME Community,
It's hard to imagine that there was a time this year without the coronavirus pandemic. Many of us have experienced grief so heartbreaking, it seemed like we may not recover from it. Through it all, you have remained inspiringly strong and resilient. Project HOME would not have been able to accomplish what it has without you! You have given us all hope, and we remain hopeful because of the strength of our community. We hope that you see the generosity and strength of this community reflected throughout our Fiscal 2020 Annual Report.
As this pandemic has made housing, employment, education and health that much harder to maintain for many, our work has continued.
In March, as the city was going into lockdown, you helped us break ground on Peg's Place, a building that will create homes for 40 new residents transitioning from life without shelter, to one with. It will include all the wraparound services our brothers and sisters need to live their best life.
We continued to celebrate the gift that is Sacred Heart Recovery Residence. A space where we can provide 15 to 20 emergency beds and 48 entry-level places to stay for those committed to recovery. During the coldest nights ahead, we will be able to open our doors as a Winter respite, like we did over 30 years ago when Project HOME first began its mission.
In June, 42 new community members moved into Maguire Residence where staff welcomed them home. Throughout the summer we began renovations on our Honickman Learning Center Comcast Technology Labs, so it is ready when we can have students back inside.
Also, in June we stood together in grief, solidarity, and action to continue our fight for equal rights, justice, and access to housing, employment, healthcare and education for Black and Brown people. We push and hope together to ensure that this fight is the one that makes a difference and truly creates a more equitable world for all.
You were there for us when we delivered our Bring Philly HOME event to the comfort of your home. You demonstrated an overwhelming outpouring of support, not just for this event but since the beginning of COVID. For our residents who needed groceries through our Grocery LifeLine and during the Holiday season to bring much needed food and gifts, YOU WERE THERE. For that we can't even begin to express our gratitude.
You supported us even when you were hurting. When you were experiencing loss and navigating all the challenges COVID-19 sent your way, you thought of Project HOME. Your leadership and compassion have picked us up so many times during this exhausting year. You are the reason that we are hopeful for better things to come in 2021, because you showed us it was possible during one of the most challenging years of Project HOME's history.
We end 2020 filled with gratitude for each of you. There is a light coming as we reimagine the world in 2021. In the meantime, we wish you all a happy and healthy New Year.
With warmest gratitude,

Statement of Activities
Fiscal Year July 1, 2019 to June 30, 2020
REVENUE, GAINS, OTHER SUPPORT

 

EXPENSES

OPERATING REVENUE

 

PROGRAM SERVICES

Contracts and Government Funding

$12,785,399

 

Housing and Support Services

$19,717,563

Contributions and Grants (Incl. In-Kind Contributions)

$14,195,492

 

Education and Employment Services

$2,603,535

Forgiveness of debt, net of debt issuance costs
$9,393,790
 
Health Services
$7,482,614

Medicaid/Medicare, net

$5,442,842

 

Strategy and Impact Services

$920,961

Program Income and Fees

$6,784,875

 

SUPPORTING SERVICES

Investment Income

$3,134,290

 

Management and General

$4,769,540

NON-OPERATING REVENUE

 

Fundraising and Development

$1,559,045

Revenue and Support for Capital Acquisitions and Financing

$3,668.00

 

NON-OPERATING EXPENSES

TOTAL

$51,740,356

 

Housing Development Expenses

$256,494

 

 

 

TOTAL

$37,309,752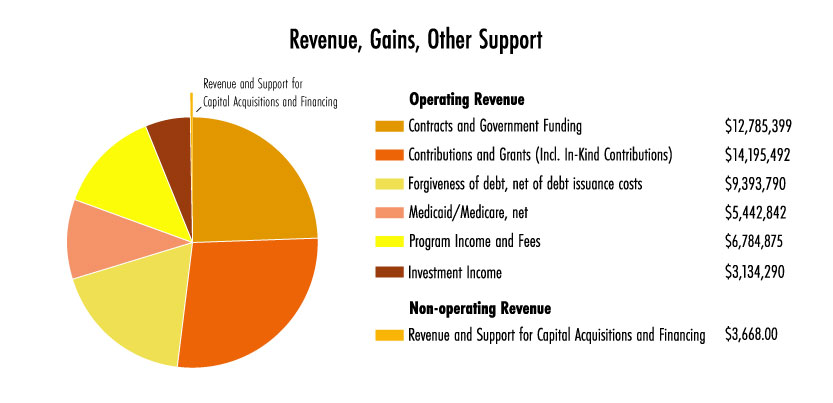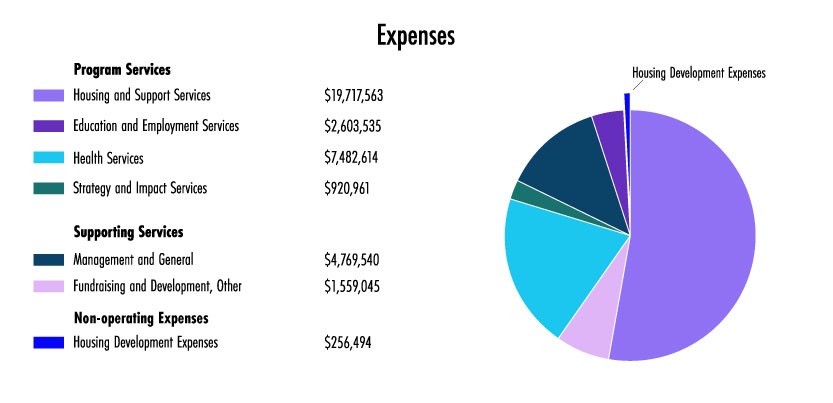 Our Donors
The following individuals and organizations have supported Project HOME financially during our 2020 Fiscal Year — making contributions of $500 or more during the 2020 fiscal year. We thank you for investing in our work to break the cycle of poverty and homelessness in Philadelphia.
We have made every effort to ensure the completeness and accuracy of this list. If you notice an error, however, please accept our sincere apologies and let us know by calling 215-232-7272 x3045.

Donor Listings

Our Impact
Our FY20 Infographic is available by clicking on the graphic below. You can also click one of the buttons below to get caught up on what was another busy year at Project HOME!
FY20 Infographic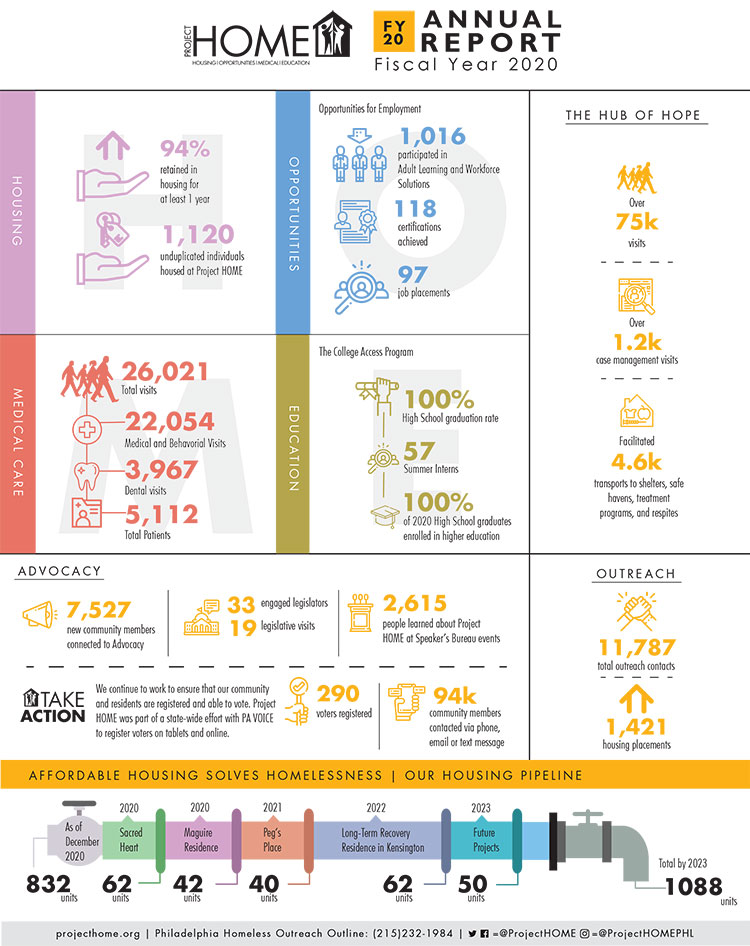 Our Stories
A challenging year provided the opportunity to reflect on the many, many stories that have defined our work in Philadelphia. We hope they inspire you as they have inspired us.

Fiscal Year 2020 Board of Trustees
| | | |
| --- | --- | --- |
| BOARD OF TRUSTEES | BOARD EMERITUS | BOARD CHAIRS |
| Joanne Berwind | Kathy Z. Anderson | Joseph Ferry 1989-93 |
| Dorothy Binswanger | Donna Boscia | Stephen Gold, Esq. 1994-2001 |
| Richard Bogue | D. Walter Cohen | Margaret Healy, Ph.D. 2002-05 |
| Travis Branch | Steve D'Angelo | William Harvey, Esq. 2006-09 |
| John Connors | Robert Downing | Kathleen Owens, Ph.D. 2010-16 |
| Jeff Cook | Frances Egan | Debbie Fretz 2017-Present |
| Joan Dawson-McConnon, CPA* | Stephen F. Gold, Esq. |   |
| Pamela Estadt | Dennis Griffin |   |
| Caitlin Ferry | Margaret Healy, Ph.D. |   |
| Debbie Fretz | Lynne Honickman |   |
| William Harvey | Hyacinth King |   |
| Hank Hockeimer | Louis Mayer |   |
| Lori Lasher | Joseph Miller |   |
| Leigh Middleton | Joyce Miller |   |
| Wes Mitchell | Patrick O'Grady |   |
| Megan Maguire Nicoletti | Kathleen Owens |   |
| Marcel Pratt | Pedro Ramos |   |
| Claire Reichlin | Emily Riley |   |
| Estelle Richman | Michael Rubinger |   |
| Dr. Loren Robinson | Susan Sherman |   |
| Sister Mary Scullion* | Glenn Shively |   |
| Almeda Smith | Georgianna Simmons |   |
| Jim Smith | Gerald Strid |   |
| Thomas Walker, Jr. | Riki Wagman |   |
| Joyce Wilkerson | Lara C. Weinstein, M.D. |   |
*All trustees are independent voting members except those marked with an asterisk.