I Am Project HOME: Candice Crawford and Claude Robinson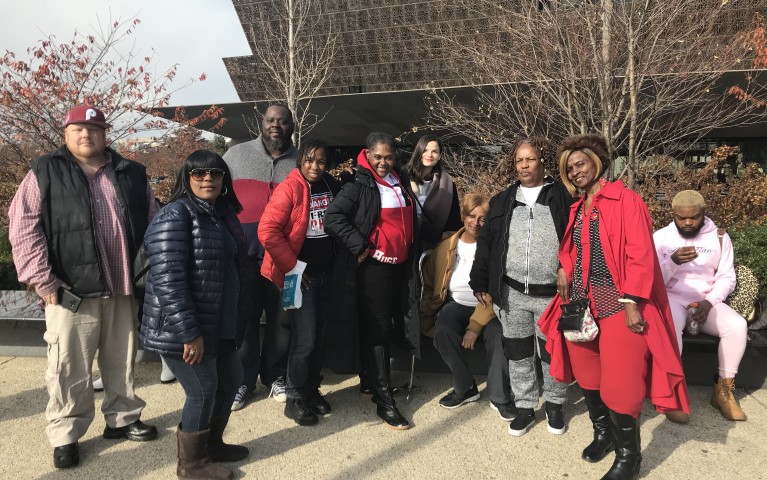 In November 2019, I had the honor of speaking in-depth with two residential services program managers, Candice Crawford from James Widener Ray Homes and Claude Robinson, from Ruth Williams House at the Gene & Marlene Epstein Building. We were on a very special bus trip bringing residents and staff to the African American Museum in Washington D.C.
They were encouraged by what residents shared of their experience of the trip. A young adult stated it was the first time she had been out of the state, and the museum was inspirational to her as a young black woman. They walked the museum having conversations with residents about how the exhibits helped bring their heritage to life, seeing the richness of their culture through a new lens. They reflected on the trauma and the struggle of black people to get from the narrative of slavery to where they are at today.
Candice spoke of getting to know residents new to Ray Homes more that day, including a resident who, when processing his application to move to Project HOME, was labeled as severely mentally ill, combative, and aggressive. She didn't see another side of him until that trip, where he vibrantly conversed with her throughout the day. Among many other things, she learned he was three credits short from graduating college.
Having been the hiring manager and supervisor for Candice and Claude at different times, I had the privilege of getting to know their leadership styles. Candice is an open book. She believes in leading with transparency, is non-judgmental, and has a good rapport with Ray Homes residents. She looks at each resident through a lens that acknowledges their different backgrounds. Her days are filled with coaching, advising, and encouraging residents to make decisions for themselves. If they get off track, she is there to support them. She knows all people make mistakes, because all are human.
Claude is his own biggest critic. One of the ways he's invested in his growth is through reflecting on his handling of challenges. He has been working at building empathy, and has made strides in trying to feel what residents and/or staff experience in different difficult situations they face. His daily motto is "be the best me I can be every day". His daily goal is to be a little better today than yesterday. Claude keeps track of his growth areas in his leadership style and works on actively amending so his staff and residents have the best of him when they need it to assist community members in meeting their goals.
Growing Up Together in West Philly
This day we enjoyed the extra time to talk on the bus trip. We talked about Claude having been elected by his peers to be on the Project HOME Diversity, Equity, and Inclusion Steering Committee. He expressed that he feels invested in the education of people on the trauma and plight of the black community as a whole, including the experience and impact of intergenerational trauma. They both stressed the importance of having conversations about incidents happening in the black community across the country. They feel people are paying attention more, and spreading the word of equality and equity for all people. They are encouraged by acts of acknowledging trauma in this world with saying the names of Black, Indigenous and People Of Color (BIPOC) who have been killed by police, bringing awareness, as historically these violent acts have been downgraded and hidden for so long. As I soon found out this connected back to Candice's and Claude's childhoods and what they saw in their neighborhood.
Coming of age in West Philadelphia in the 1990s, Candice and Claude lived a block away from each other. They describe it as a rough neighborhood back then. There were tough times growing up on the block during the open-air drug market, also known as the era of crack cocaine, with people selling and using drugs right in front of them. They reflected that back then there was more severe criminal prosecution of drug users and now, being in the field of behavior health and supportive housing, they are encouraged by more options for opportunities and resources to help people in their recovery journey.
Candice's parents were really welcoming toward Claude, accepting him like family. Her parents were known for their welcoming spirit, always having get togethers, getting to know their neighbors in a way that was supportive like parents. Later on, Candice and Claude began hosting get togethers too. The Crawford household was a supportive safe hang out for the young people in the neighborhood. It was a safe house to be at all hours of the day and night. Sometimes gatherings would last so long into the night they found themselves cooking breakfast together.
Candice is the youngest of 10 children, with six brothers and three sisters. Claude is the oldest of three siblings, with one brother and one sister. Everyone was protective of Candice, the baby of the crew.
Candice was also close with Claude's mom, dad and siblings. They truly consider each other like brother and sister. They even argue and pick at each other like brother and sister.
The community Candice and Claude began building as children has continued throughout the decades. The friend group, the crew, has stayed together, still close more than 30 years later. Once they became tight knit, they stayed closely connected. This is true even though Candice went away to college at Delaware State University, an HBCU (historically black college or university). Though even then, she came home just about every weekend. During those years, Claude would continually support her staying at school. Candice started as a nursing major, then went to social work class one day with a friend and immediately felt connected. Usually more of a self-described shy person, she found herself driving the classroom conversation. She realized she found her niche and switched majors.
Claude was more of a self-employed entrepreneur trying out different business ventures including driving cabs, promoting parties, while working with young adults and kids in summer camp. It was at the summer camp that his uncle and dad said he displayed talent. This led later to Claude working on a psychiatric partial hospitalization unit in intensive residential treatment services, considered a step-down from hospitalization. Claude's talents were recognized, where he received promotions in the company, rising up to a manager position. He continued to work there nearly two decades, while he also went on to complete his Bachelor Degree in Human Services.
After graduating, Candice began working at North Philadelphia Health Systems where she stayed 15 years of her career prior to joining Project HOME. She was first at the hospital on 8th Street and Girard Avenue, working in drug and alcohol treatment programs. Then she went to St. Joseph Hospital, as the Director of Social Services. After the hospital closed she went back to 8th and Girard as a drug and alcohol counselor on a detox unit.
Strengthening Project HOME
Candice was the first to join the Project HOME workforce as the program manager at Ray Homes. She then introduced Claude to Project HOME. He started in the Young Adult Program as the residential services coordinator at Francis House of Peace and JBJ Soul Homes, and later was promoted to program manager at Ruth Williams House.
Candice also introduced her mom, Alice Crawford-Monroe, to Project HOME. After retiring from Jefferson Hospital after many decades of work where she was an operating room nurse, she joined the residential services team at Gloria Casarez Residence, where she works part time as a case aid. Many of the young adult residents there connect to her as a surrogate grandmother, where they seek her wisdom for various situations and choices to make in their lives.
Candice and Claude both connected with ease to the mission of Project HOME. Candice's life has been immersed in building community in Philadelphia. Growing up in a house that was open and welcoming, her friends that were having issues in their own homes would often stay at her parents' home while their family members were using drugs or experiencing other hard times. Candice grew up on Project HOME's mission, creating a safe and respectful environment where we support each other in struggles for self-esteem, recovery, and confidence to move toward self-actualization. It feels natural to her.
Claude's godfather, who was best friends with his dad, worked in behavioral health at Philadelphia Department of Human Services for 30 years. Claude worked with him in recreational summer camps. Claude feels this profession is in his DNA, and while he had an affinity for this type of work as early as 15 years old, he denied what he refers to as his 'calling' for a long time. He admits now that he always had a natural affinity for social and supportive services, but he had other plans. One could say social work was in his blood. His stepfather had a career in social work, while his mom's occupation was at the Pennsylvania Department of Public Welfare.
We ended our conversation with a discussion about heroes. One of Candice's heroes is Maya Angelou. She feels she is a great role model as she had a past that included drugs and prostitution that she overcame, going on to become a prolific writer and activist.
Claude's hero is Marcus Garvey, as he was a great leader at bringing the black community together. In Claude's words, "He helps us to realize we don't have to live in oppression. We can build our own community up. This is not to diminish responsibility of anybody, but taking accountability ourselves."
It is through Candice' and Claude's leadership at their sites and in the Project HOME community that we see exemplified Project HOME's core value, "We believe in the transformational power of building relationships and community as the ultimate answer to the degradation of homelessness and poverty." Candice and Claude live out this value every day of their lives, and the Project HOME community is better for it.