I Am Project HOME: Jennine Miller
Wednesday, January 15, 2014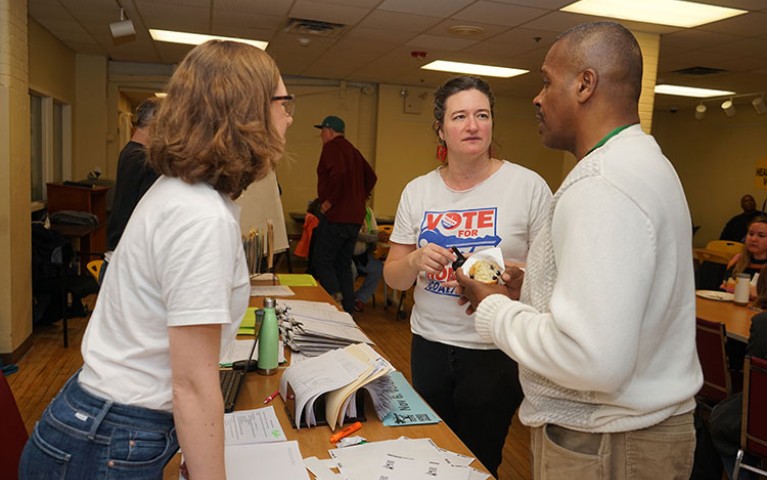 Jennine Miller's office at 1515 Fairmount Avenue might be one of the messiest in all of Project HOME. But it's also one of the most energetic. It's a nearly constant den of activity, with interns, residents, and volunteers busy at work, or with visitors popping in to catch upon the latest advocacy efforts. The walls are adorned with posters and shirts from numerous social-change campaigns (as well as plaques and certificates signifying the many awards she has won).
A seasoned veteran who has worked with us since 1999, Jennine is Project HOME's Director of Advocacy and Public Policy. With a great sense of humor and hope, and with a tireless devotion to justice and dignity, she spearheads our political organizing efforts, which are a vital part of our mission. Over the years, she has played a critical leadership role in many important campaigns and coalitions,including a Philadelphia housing trust fund, inclusionary zoning, defending persons on the streets from criminalization, and protecting voting rights. She has been instrumental in the growth and success of the Vote for Homes coalition,which has mobilized thousands of low-income and homeless Philadelphians to vote and raised issues of housing, jobs,and services in election years at the city, state, and federal levels.
Jennine sees a big part of her role at Project HOME as abridge: "It's important to me to link together different parts of the community – connecting our residents to politicians, volunteers to advocacy efforts, or members of the community to their rights as voters." And she is well suited to such a role: She has remarkable relational skills, and connects comfortably and effectively with people from all parts of society.
In fact, as much as anyone else at Project HOME, Jennine brings to life our value of relationships and community as the taproot of our work. "The only way we can make change," she insists, "is by working together, by staying connected to each other. Whatever advocacy or social change work we do has to come out of that."
And she only has to step out of that messy, energetic office to fuel her motivation to work for justice. "Just outside my door every day I see people who have come into the Outreach Coordination Center seeking shelter, who are still trying to meet their most basic needs. I know our work isn't done, there's still more fighting for change that has to happen."
And she will quickly add, "It's a matter of us coming together, of all of us doing our part." And there is nobody better at bringing people together than Jennine. Which gives us hope that our work for a more just society will continue to bear positive results.