Project HOME Adult Learner Creates Podcast Channel
Wednesday, September 6, 2023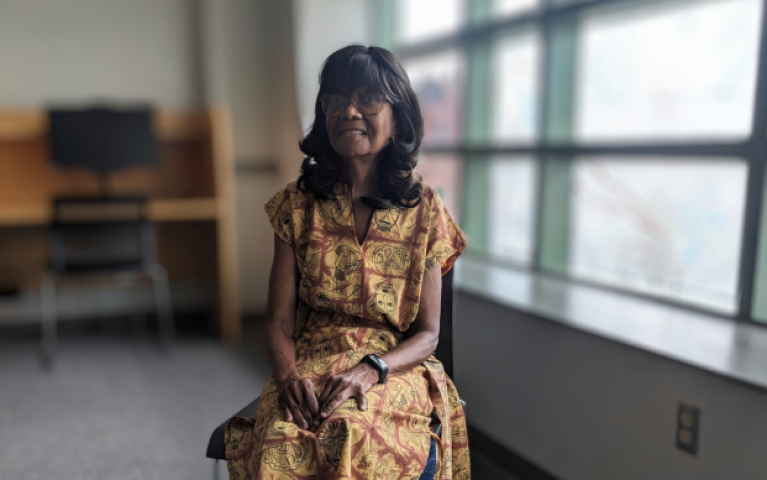 Meet Joyce Randell, a student in the Adult Education Program at The Honickman Learning Center Comcast Technology Labs (HLCCTL). Recently, she launched her very own podcast called "Traveling Explorations: My Journeys Beyond Retirement." The podcast dives into Joyce's life travels and personal experiences, with a message to encourage others to take advantage of retirement and be adventurous. The episodes range from 20 to 40 minutes, and she comes to HLCCTL prepared with a detailed script and notes for recording.
Joyce began attending our Intro to Podcasting class from January to February 2023 and quickly decided she wanted to create her own channel. The class teaches students all aspects of launching a podcast channel, brainstorming topics, interviewing techniques, outline and script writing, audio equipment, editing, and much more. They're also taught how to distribute their content to online platforms like YouTube, Spotify, Apple Podcasts, and Amazon. This summer, the Music Production Open Lab hours are available for students, both past and present to book sessions to continue working on their music and podcasts.
Joyce has spent countless hours this summer at their studio, perfecting her craft, creating original artwork, and sharing her stories with listeners. The staff works with her to find music to accompany each episode and upload the completed project to all online platforms. Most recently, she's been working on an episode that documents her parents' lives through meaningful items she rediscovered in her childhood home. When Joyce isn't curating her podcast, you can find her dabbling with photography, sewing, or hitting the gym. She believes it's never too late to learn something new and challenge yourself.
Check out Joyce's podcast channel here.
...
Our classes and programs are designed to increase the employability and earning potential of our adult learners. Join our email list today to be notified of upcoming classes. You can also see our current class by visiting our events calendar.