Stephen Klein Wellness Center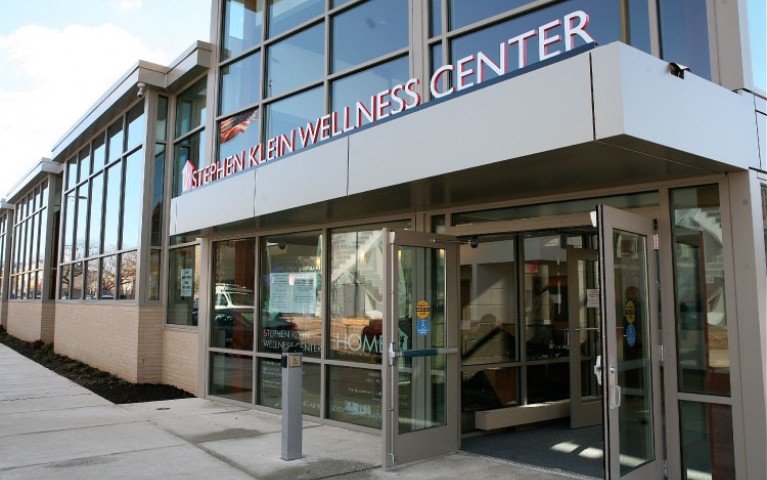 COVID-19 Update: The Stephen Klein Wellness Center is open with some service restrictions. We are asking all patients to please call 215-320-6187 prior to coming to the center in order to determine how to best meet their needs and ensure their safety.
Dental services will now only be provided for urgent dental needs or emergencies, based on guidelines set by the PA Department of Health and American Dental Association. New or established patients with urgent needs should call the SKWC at 215-320-6187 for phone triage by a dentist. Dental services at the Hub of Hope will remain closed until further notice.
Project HOME Healthcare Services is offering COVID-19 testing for patients who are referred by our own primary care providers. We will bill your insurance if applicable. Self pay fees are based on a sliding fee schedule depending on income and family size and range from $5 to $20. As is the case with all services rendered by Project HOME Healthcare Services patients will not be denied services based on the inability to pay the sliding fee.
...
The 28,000 square-foot Stephen Klein Wellness Center (SKWC) greatly expands our capacity to serve more people, as well as add new services, providing a sorely needed health home for homeless men, women,and children, and residents in an area where half of the people live in poverty and almost a third in extreme poverty.
The Stephen Klein Wellness Center is committed to addressing the health and wellness needs of people who are currently homeless, formerly homeless, and people living in our North Philadelphia community by providing the following services:
...
Project HOME's Healthcare Services is a Federally Qualified Health Center (FQHC) and we are able to provide our services regardless of a person's ability to pay for the services. In cases where an individual lacks health insurance, we offer a discounted sliding fee program.
Project HOME receives HHS funding and has Federal Public Health Service (PHS) deemed status with respect to certain health or health-related claims including medical malpractice claims for itself and its covered individuals.
Additional Information
How to Reach Us
To schedule an appointment at Stephen Klein Wellness Center or Pathways to Housing, please call 215-320-6187. Walk-ins will be accommodated if a provider is available, but it is always recommended to call ahead first.
After Hours Care
If you are experiencing a health emergency, please call 911 immediately or go to your closest hospital emergency department.
To reach a licensed health care provider after regular business hours, including evenings and weekends, call our main number at 215-320-6187. A live operator will answer and relay your message to the on-call provider who will call you back within 30 minutes. For prescription refills, appointments or referrals, please call 215-320-6187 during regular business hours.
We accept the insurances listed below, as well as individuals who have no insurance:
Medicaid
Keystone First : (800) 521-6860
Health Partners: (800) 553-0784
Medicare
Keystone VIP Choice :(800) 450-1166
Health Partners Medicare: (866) 901-8000
Keystone First Comm Health Choices: (855) 332-0729
PA Health and Wellness CHC: (844) 626-6813
UPMC CHC: (866)884-8579
If you have another Medicaid plan and would like to switch to a plan we accept, please call PA Health Choices at 800-440-3989.
Please make sure that one of the Project HOME Stephen Klein Wellness Center providers is your Primary Care Physician (PCP).
Our Providers
Dani Baurer, primary care provider
Christine Castellan, primary care provider
Shinichi Daimyo, psychiatric nurse practitioner
Patrick Doggett, primary care provider
Nyasha George, primary care provider
Joi Goodwin, primary care provider
Judith Tiga, primary care provider
Nayeli Spahr, primary care provider
Ivel Morales, primary care provider
Insurance Provider Contact Information
Health Partners | 800-553-0784
Keystone First | 800-521-6860
Project HOME SKWC ID# 30171819
Keystone Connect | 855-332-0434
Project HOME SKWC ID# 30171819
Keystone VIP Choice | (800) 450-1166
Project HOME ID# 80021357
Medicaid Access—no PCP change necessary
Medicare—no PCP change necessary
After you've made the call, please schedule an appointment by calling 215-320-6187.
Future Insurance Options
Cigna HealthSpring
Aetna Better Health
Aetna commercial plans
Independence Blue Cross plans (Keystone Health Plan East, etc)
Please print and complete the following forms prior to your visit.
New Patients
Sliding Fee Discount Forms
The Stephen Klein Wellness Center (SKWC) is a partnership between Project HOME, Thomas Jefferson University Hospitals, Inc., Jefferson Medical College Department of Family and Community Medicine, MPOWER, and Stephen Klein. It expands the health care services that Project HOME, with Jefferson Family Medicine, have been providing to formerly homeless and low-income people in North Philadelphia.
Named for its lead funder, a champion of this project for years, the SKWC will include primary care, behavioral health, dental care, a pharmacy, on-site legal counseling, and a Philadelphia Freedom Valley YMCA with babysitting services.
The project was made possible due to the leadership of Monica McCurdy, Project HOME's Vice President of Healthcare Services as well as Jefferson physicians Lara C. Weinstein, MD, MPH, James D. Plumb, MD, MPH and Richard C. Wender, MD, chair, Department of Family and Community Medicine. Thomas Jefferson University Hospitals has shown its support with a one million dollar gift to the project. Part of our funding is made available by the Health Resources and Services Administration (HRSA) through a grant.
With a transformational leadership gift from Leigh and John Middleton, Project HOME created a public/private initiative to end and prevent chronic street homelessness in Philadelphia. MPOWER comprises visionary leaders who have joined with Leigh and John Middleton to ensure that together we realize this bold goal. This vital project is the third project of MPOWER.
Since 2011, Project HOME and its community partners have created a new strategic and collaborative approach to provide housing, healthcare, education, and employment. Under Project HOME's lead, MPOWER has identified the longest-term and most vulnerable people living on the streets and developed a comprehensive program of permanent housing (with services designed to break the cycle of homelessness) and also the necessary capacity to prevent chronic street homelessness in the future.
In addition, MPOWER will pilot evidence-based practices in drug- and alcohol-free housing coupled with employment, leading to greater economic independence for people struggling with addiction and chronic street homelessness. To prevent future homelessness, MPOWER will create new permanent supportive housing with strong education and employment opportunities targeted to youth aging out of foster care or who are experiencing homelessness.
The financial leverage and collaborative impact of the MPOWER allows Project HOME to greatly expand its housing and services, including building six new residential programs with a total of 500 additional housing units—doubling overall housing capacity—and a new wellness center offering integrated health care services including primary, behavioral health, and dental care, together with wellness programs. Not only does the MPOWER help Project HOME carry out its mission of ending homelessness, it generates economic and fiscal impacts throughout the City of Philadelphia and the Commonwealth of Pennsylvania.
On a daily basis, we witness the tremendous strength and courage of men and women who have overcome homelessness. And daily, we experience what happens when a community with a shared vision comes together—what Jon Bon Jovi calls "The Power of We." Together, we can seize this opportunity and make the ambitious hope of ending chronic street homelessness in Philadelphia a reality. We invite every sector of society to join us in this hope—and help make Philadelphia the first major city in our nation to end and prevent chronic street homelessness.
Visionary Leaders

Connelly Foundation
Sheila and John Connors
Janet and John Haas
The Honickman Family
JBJ Soul Foundation
Margaret and Paul Hondros
Thomas Jefferson University and Hospitals
Peggy and Harold Katz
Stephen B. Klein
Frances and James Maguire
Leigh and John Middleton
Elizabeth R. Moran
Neubauer Family Foundation
Oak Foundation
Raynier Institute and Foundation
The Harry and Jeanette Weinberg Foundation, Inc.
Ruth and Morris Williams