Senior Philadelphians Experiencing Homelessness | Jonathan Juckett Remarks
Tuesday, February 22, 2022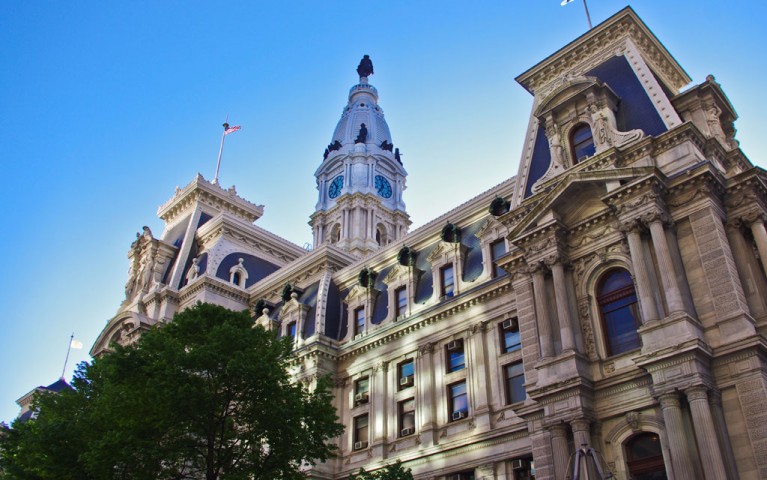 Councilmember Kendra Brooks invited Project HOME to testify Tuesday, February 22 at 10 a.m. at the Committee on Intergenerational Affairs & Aging to talk about issues related to shelter and seniors as well as the current challenges for vulnerable people related to COVID. Jonathan Juckett, senior program manager of our Outreach Coordination Center, will present testimony on our behalf alongside resident Robert Waters, who will speak about his experiences as an older adult working to access housing with appropriate supports.  
Thank you to Robert and Jonathan!
Thank you, Councilmember Brooks, for hosting this hearing today to shine light on the struggles of seniors accessing shelter and housing during the COVID pandemic and at all other times, too.
My name is Jonathan Juckett and I am the senior program manager for the Outreach Coordination Center at Project HOME, a Philadelphia non-profit organization empowering people to break the cycle of poverty and homelessness through affordable housing, employment, health care, and education. Previously, I was the manager at Project HOME's St. Columba residence, a safe haven for men who are vulnerable with histories of homelessness and behavioral health needs.
Every day at Project HOME, we see first-hand the need for safe, decent, affordable housing with supports. To date, Project HOME has developed 976 units of affordable and supportive housing, with an additional 62 units under construction and 100 units in the pipeline.
In addition to providing housing, we collaborate with other street outreach providers through the Homeless Outreach Coordination Center for the City of Philadelphia, operate a 24/7 Homeless Outreach Hotline (215-232-1984), and run the Hub of Hope drop-in center in the SEPTA Concourse at Suburban Station, serving hundreds of guests each week. 
Our upcoming projects include creating units for people who are aging, in recovery, exiting foster care, and/or identify as LGBTQIA. Each of these would provide an exit strategy for people currently living in shelter or the isolation and quarantine sites so that new people can enter from the streets and find their way home.
We are here today because Project HOME has faced persistent challenges – during COVID and at all times – in helping seniors to access shelter and maintain stability in affordable housing. Our community is aging – more than 50 percent of Project HOME residents are over age 55, and many have complex physical and behavioral challenges.
The city's own WebFocus database shows that one in three street outreach contacts are with individuals who are age 50 or older. In fiscal year 2021, the City of Philadelphia reported 3,167 people living in shelter who are over the age of 55. In line with national trends, Philadelphia's shifting demographics mean that we will have more older adults and people with severe disabilities needing housing and services. Older and disabled people are often unable to access shelter or permanent housing because of barriers I will outline below.

Challenges During COVID
Of course, these challenges were compounded for seniors and other vulnerable people diagnosed with COVID. Throughout the course of the pandemic, Outreach struggled with capacity in shelters and access to quarantine and isolation units. Even during our coldest weather, we had individuals who were COVID-positive and had nowhere to go, so they stayed on the streets or desperately accessed emergency rooms to get warm. Of course, congregate shelters are not designed to keep people safely isolated from COVID.
I personally answered phone calls to our hotline from seniors who were diagnosed with COVID and discharged to the streets from the hospital. It was heartbreaking to have nothing to offer them. It is one of the hardest parts of this job, when you have no place to take people even on the coldest nights.

Ongoing Challenges to Philadelphia Seniors Experiencing Homelessness
Homeless outreach teams work to help seniors navigate a number of different issues. The outreach hotline is receiving more calls from seniors who are illegally evicted or have lost their housing due to L&I violations.
When outreach teams work to help seniors access shelters, many are turned away because of limited mobility and a need for extra supports. Outreach and shelter workers are carrying a burden for work that they aren't equipped to do, such as helping people to manage open wounds, oxygen tanks, ambulatory issues, catheters, and incontinence.
In just the last two weeks, Outreach worked with a 72-year-old woman denied shelter due to her visual impairment, were unable to place an 84-year-old woman who could not bathe, shower or transfer herself, and spent several days to place a 61-year-old who was malnourished and had little to no ability ambulate on his own.
We continue to work with homeless individuals on the street with oxygen tanks and incontinence who struggle to access shelter but could live independently with the right supports. In Kensington, our teams check in daily with a woman who is working on recovery from an opioid dependence but has no ability to ambulate on her own and is entirely dependent on others to push her wheelchair.
Outreach and area hospitals frequently face heartbreaking situations in which homeless individuals no longer require hospitalization but are not appropriate for or unable to access shelter due to their medical conditions, and the only immediately available alternative is the streets.

Exploring Solutions Together
As the baby boomers continue to age, the ongoing public health crisis of aging and homelessness must be addressed. In addition to seniors living on the streets, we also experience challenges with those living in our permanent housing and safe havens who require services that we just do not have the capacity to provide. There is a need for more units where people can come in from the streets as well as appropriate units for seniors who do not require a nursing home level of care and also do not belong in shelter.
Shelters, safe havens, and other forms of housing need the ability to be able to provide supports with access to nursing services and partnerships with healthcare, including physical and behavioral health.
For ongoing issues related to seniors who are experiencing homelessness, we recommend the following solutions:
We must get older and more vulnerable people out of shelter!

Create a more flexible funding process for providers to be able to partner with the City and access City funds to create new long-term permanent, affordable, accessible housing for people who are aging, medically vulnerable, and/or living with behavioral health needs
Expand COVID prevention spaces with private rooms and/or "sick rooms" to help people isolate when needed
Fund physical improvements to make ALL shelters wheelchair accessible and create other modifications for people with varying disabilities. Fund physical improvements to all shelters and permanent supportive housing programs to allow people to age-in-place who need a higher level of care.
Support easy access to Home and Community Based Services can help keep seniors remain in their homes and community. Not having access to Medicaid waivers and other community services can lead to many seniors becoming unhoused and placed in nursing homes and shelters. The process for finding accessible and affordable housing then starts again for these seniors.  OHS can help prevent this delay by connecting with community organizations such as Liberty Resources, who can help make efforts for expediated enrollment.
Work with providers to expand Medical Respite including for those who can't ambulate or have incontinence issues (in addition to integrating greater home health aides and nursing support in shelter/housing) that prioritizes referrals from outreach workers, safe havens, and an array of medical providers.
Work with providers to identify and implement creative solutions for seniors with the most complex needs, including those with substance use and behavioral health challenges
Modify shelter standards and requirements for housing providers to clarify what medical needs can be met on-site and what can be done for people who have more complex needs
Work with providers to create housing solutions for ongoing needs and also the pandemic. Hear directly from providers and also people who have experienced homelessness and identify specific measures that can be implemented in the short, medium, and long term
Create a written plan in collaboration with Office of Homeless Services (OHS), Philadelphia Department of Public Health (PDPH), Department of Behavioral Health and Intellectual DisAbility Services (DBHIDS), shelter providers, and Homeless Outreach for responding to future variants, surges, and outbreaks.
Create a high-level (reporting to Mayor, Managing Director, or Deputy Managing Director) position focusing on emergency preparation for people who are homeless to ensure that planning for another disaster is of high quality, is comprehensive and includes private sector, state and federal stakeholders.
Increase access to quarantine and isolation supports, including 24/7 intake and transportation. (as outlined in recent letter sent to Mayor Kenney outlining the need for pandemic-specific measures to keep people housed and safe, and address specific, acute, and time-limited needs during this public health crisis.)
The cost of doing nothing is dire and real. This past December, we commemorated a record 400 people at Homeless Memorial Day. We are ready to work together with other providers and the City to ensure that everyone has a place to call home. Please call on us at any time if we can be of assistance in crafting complementary strategies. We look forward to continuing the conversation so that we can together fulfill the vision that none of us are home until all of us are home.
Senior Philadelphians Experiencing Homelessness | Jonathan Juckett Remarks
Jonathan Juckett spoke to the Committee on Intergenerational Affairs & Aging about shelter and the impact on seniors